Cactus pot crochet pattern
Hello everyone, today we will make this cactus pot crochet pattern together
The required materials cactus pot crochet pattern:
– Yarn (55% cotton, 45% acrylic) 50g/160m.
– YarnArt Jeans: green, beige, black,purple colors.
– 2 mm crochet hook.
– Tapestry needle.
– Scissors.
– Stuffing material (fiberfill/polyester).
Cactus
Use green yarn:
Crochet 2 semicircles.
1. 6sc into MR
2. Inc*6 (12)
3. (1sc, inc)*6 (18)
4. 18sc
Join 2 parts through the inner side, 3sc. (do not work into them)
5. 15sc to the first part, 15sc to the second part (30)
6.-7. 30sc (2 rounds)
8. (3sc, dec)*6 (24)
9. 24sc
10. (1sc, dec, 1sc)*6 (18) Begin to stuff with fiberfill.
11. 18sc
12. (4sc, dec)*3 (15)
13. change to black yarn and crochet through front loops only: (4sc, inc)*3 (18)
14. (2sc, inc)*6 (24)
15. (3sc, inc)*6 (30)
Break yarn.
Use purple yarn and begin to crochet the flower;
1.8 sc into MR.
2. (chain 5, turn, start working in the second chain from hook, 4 sl st, join sl st in the 1st stitch in a circle)*8
Break yarn, leaving a long tail for sewing.
Begin to crochet the pot, using beige yarn;
1.6sc into MR.
2. 6inc (12)
3. (1sc, inc)*6 (18)
4. (2sc, inc)*6 (24)
Trace around the bottom of the pot on the cardboard or plastic and cut it out. (Glue it to the bottom of the pot – optionally).
5. 24sc through back loops only
6. 24sc
7. (3sc, inc)*6 (30)
8.-10. 30sc (3 rounds) Do not break yarn.
Begin to join the pot with the cactus:
1. Join the pot and cactus with the right sides facing each other. Continue crocheting the pot using beige yarn, 20 sc.
Stuff it with fiberfill firmly and complete crocheting the remaining 10 sc.
2. 30 sc
3. crochet the border (chain 1, join to the first stitch on the pot with sl st)*30 times
Break yarn and hide the tail.
Sew the flower to the cactus and bend the leaves up.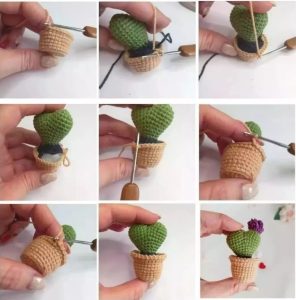 So we are done, here is the free cactus pot crochet pattern that I have collected, if you have any questions, please leave a comment. Wish you success.