Today we will make an octopus together, everyone. I really like this Octopus crochet pattern. Now let's get started.
Materials
2.2mm or 2.5mm needle
Tapestry needle
Filling (silicone fiber)
11mm eyes with safety lock
1112 Cream (25g)
3583 Cherry (5g)
4456 Orange (5g)
1317 – Solar (5g)
5800 Pistachios (5g)
2829 – Bic Blue (5g)
2137 Hydrangea (5g)
6614 – Lavender (5g)


Abbreviations
chain: chain
dc : single crochet
sl st: slip stitch
dc: double crochet
inc: increase
dec: decrease
BLO: back loop of stitch
Size using line amigurumi with needle 2.20mm and low square: 15cm
Tentacles
Make 60 chains and then in each of them make 3 sc, repeating this same process for another 6 times to have 7 tentacles in total.
Head
1. Magic ring with 6 sc
2. 6 inc (12)
3. 12 inc (24)
4. (3sc, inc) 6x (30)
5. 2sc, inc, (4sc, inc)5x, 2sc (36)
6. (5sc, inc) 6x (42)
7. 42sc BLO (Back loop)
8. (13sc, inc) 3x (45)
9. 7sc, inc, (14sc, inc)2x, 7sc (48)
10. (15sc, inc) 3x (51)
11. 8sc, inc, (16sc, inc)2x, 8sc (54)
12. (17sc, inc) 3x (57)
13. 9sc, inc, (18sc, inc)2x, 9sc (60)
14-17. 60sc all around
18. 9sc, dec, (18sc, dec)2x, 9sc (57)
19. (17sc, dec) 3x (54)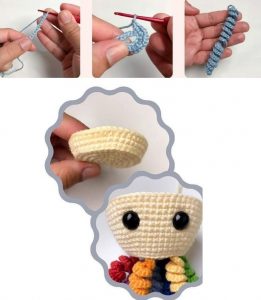 Place the eyes with locks between rows 13 and 14, 8 stitches apart. Take the opportunity to give expression to the octopus by embroidering some detail on the eyes, embroidering the mouth and cheek (embroidery is optional).
Let's also take the opportunity to attach the tentacles like this we avoid seams at the end.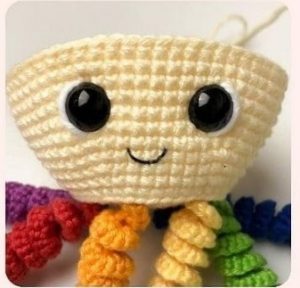 The tentacles will be attached between rows 5 and 6. With the crochet hook, pass one of the tentacle threads through one of the stitches and the other thread through the next stitch, so the two threads will be inside the piece, then make 3 knots so that the tentacle is securely attached and cut off the excess thread.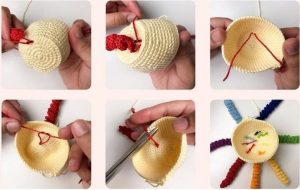 The tentacles must be attached with a distance of 4 to 5 points between them, but I advise you to place some pins in the place where you intend to attach the tentacle to see if the distance is proportional between the 7.
When finished, it will look like image below:
20. 8sc, dec, (16sc, dec)2x, 8sc (51)
21. (15sc, dec) 3x (48)
22. 7sc, dec, (14sc, dec)2x, 7sc (45)
23. (13sc, dec) 3x (42)
24. (5sc, dec) 6x (36)
25. 2sc, dec, (4sc, dec)5x, 2sc (30)
26. (3sc, dec) 6x (24)
Add filling.
27. 1sc, dec, (2sc, dec)5x, 1sc (18)
28. (1sc, dec) 6x (12)
29. 4 dec (8)
Add more stuffing to finish, make the inverted magic ring and finish.
Now let's make the ruffle detail on the straps that were left out of row 7.
Place the needle in the first loop and do the following sequence: (1sc, 3dc in the same stitch, 1sc, 1sl st).
Repeat this sequence 10 more times and finish.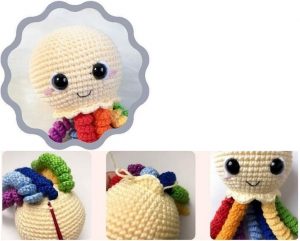 The author's idea is to create a beautiful and agile octopus so that your work is productive.
Use your creativity by changing colors and adding details if you want!
When you share this Octopus crochet pattern, please tag the author @ateliepontofonte.