Easter egg crochet pattern
Today we will make some Easter Eggs together. I took a look and found this crochet pattern to be easy to make, even beginners can do it easily. I'm Anna. Let's get started. I collected this Easter Egg crochet pattern by @TiffyHappyCrafts.
MATERIALS:
100% Cotton yarn (combed, gassed, mercerised) 50 g / 125 m
2.5 mm crochet hook
Tapestry needle and scissors
Fiberfill/toy stuffing
Stitch marker or a strand of thinner yarn
ABBREVATIONS:
sl st = slip stitch
sc = single crochet
inc = single crochet increase
dec = single crochet decrease
[…] = number of stitches you should have at the end of the round/Rnd
(…) x… = repeat whatever is between the brackets the number of stated
PATTERN INSTRUCTIONS: This pattern is written using American terminology and is worked in continuous rounds unless otherwise stated.
NOTE: I recommend, when you decrease (dec) in this pattern, always use the invisible decrease. (You only crochet into the front loop)
SKILL LEVEL: beginner
FINISHED SIZE: approx. 5.5 – 6 cm high
With color of your choice. You can switch colors as you wish.
Rnd 1: 6 sc in magic ring [6]
Rnd 2: 6 inc [12]
Rnd 3: (3 sc, inc) x3 [15]
Rnd 4: 2 sc, inc, (4 sc, inc) x2, 2 sc [18]
Rnd 5: (5 sc, inc) x 3 [21]
Rnd 6: 3 sc, inc, (6 sc, inc) x 2, 3 sc [24]
Rnd 7: sc, inc, (3 sc, inc) x 5, 2 sc [30]
Rnds 8-14 (7 rows): sc around [30]
Rnd 15: (8 sc, dec) x 3 [27]
Rnd 16: 4 sc, dec, (7 sc, dec) x 2, 3 sc [24]
Rnd 17: (2sc, dec) x 6 [18]
Stuff the egg firmly with fiberfill.
Rnd 18: (sc, dec) x 6 [12]
Rnd 19: 6 dec [6]
Sl st in next st. Fasten off, leaving a long tail for sewing.
Using your yarn needle, weave the yarn tail through the front loop of each remaining stitch and pull it tight to close. Weave in the yarn end.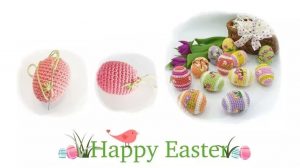 So we have completed the Easter egg crochet pattern. I hope you like this crochet pattern. If you reshare the pattern, please credit the author @TiffyHappyCrafts and the website ngoclanhandmade.com. Finally, don't forget to follow our website regularly to receive free crochet patterns.